Asphalt Drum Mix Plant
This is complete asphalt drum mix plant in all aspects including superior build quality and performance. It is available from 40 tph to 120 tph. The units are modular and build to last. Burner unit is fuel efficient and designed for optimal performance. It is also available in mobile version. We are looking to export to Sri Lanka, Uganda, Ethiopia and South Africa.

We manufacture asphalt mixing plants – drum type in capacities 40 tph to 120 tph. Capacities above 120 tph are available on request. Our plants are designed for those contractors who are looking for a reliable machine which can serve them for years to come.
These plants are ideal for road contractors who want to make high volumes of hot mix asphalt without compromising on the quality factor. Stationary asphalt mix plant means that the customer will station the plant at one place and forget it. The plant by Atlas will then endlessly serve the customer with high volumes. Many of our existing customers do road work and sometimes prefer to sell the hot mix. The control panel's ability to store large number of mix recipes make the job easier for the asphalt plant operator. The control panel is with user friendly software making the operation smooth.
Atlas DM series of asphalt drum mix plant is now more modern, complete and efficient to satisfy your needs. We always strive to make key changes in our equipment to make it more and more suitable as per your needs. Our aim is to give intelligent and efficient solutions to customers which aid in the profitability of the customer.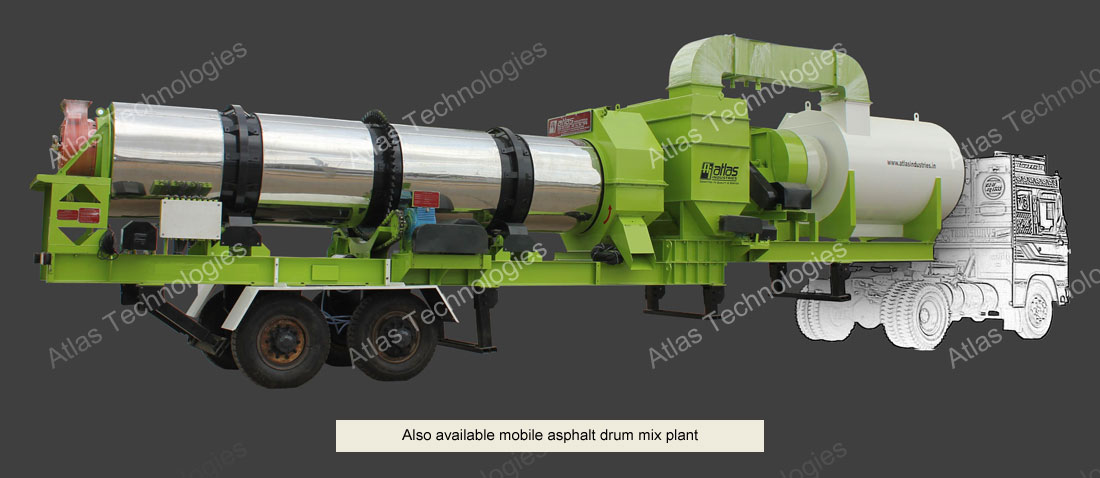 ---

Spacious opening on the top make aggregate feeding easy. The radial gate under each bin allows manual setting as per requirement. Limit switch detect lack of material in a particular feeder bin. Frequency controlled drives are present under each bin to control the flow of aggregates. One bin comes with a vibrating motor to clear blockages on sand bin.
---

Single deck vibrating screen is for removal of oversized material before the material move to the charging conveyor for weighing.
---

Charging conveyor takes the screened aggregates from beneath the screen to the drying and mixing drum and in the process the material gets weighed by the load cell placed on the charging conveyor.
---

The drying and mixing drum is the fundamental unit of an asphalt mixing plant. It is a complicated part of the plant which if not designed properly, cannot give the desired results. We have designed the drying and mixing unit with extreme care ensuring that each aggregate receive uniform heat in the heating zone of the plant and uniform mixing is achieved in the mixing zone of the drum.
The flights are designed in such a way that they increase the efficiency of the drum and help in saving fuel.
Drying drum is fully insulated by cera wool which can resist heat up to 1260 degree Celsius.
---

The burner on the drying and mixing drum of the hot mix plant is a tried and tested yet low noise burner designed for giving adequate heat to the travelling aggregates and to dry them in quick time.
The burner is diesel and LDO compatible with option to make it compatible with FO.
---

Fuel tank to feed the dryer burner comes with pumping station attached for uninterrupted flow.
---

If you want to add extra sand or minerals, additive or any colour, mineral filler supplied with our asphalt concrete plant can help in addition of the same directly with the bitumen addition into the mixing zone of the drum.
This unit comes with air compressor and not blower unit for uninterrupted addition of the minerals in the drum.
---

Bitumen tanks can be with direct heating or indirect heating facility. These asphalt storage tanks come in various capacities as required by the customer. Tanks are thermally insulated (50 mm) on all sides and covered by galvanized sheet. The burner that comes with the tank is single phase burner and strong to give fast heat to the tank. Temperature gauge and asphalt level indicator is present on the tank.
---

​
Load out conveyor is with heat resistant belt and GOB hopper on the other end. This small hopper helps in controlling the segregation of the mix material.
---

​
Silo's for storage of hot mix asphalt is available in various capacities. These silos are fully insulated on all sides to retain the heat for a long time.
---

​

​
Dry and wet dust type pollution control devices work in sync with each other to give optimum results. Dry dust collector treats the dust to cyclonic effect and knocks down the heavy particles. Wet dust collector helps to settle the dust which may have escaped the dry dust collector with the help of water. Optional bag filter can also be supplied.
---

​

​
Control panel is the main component which makes an operator comfortable with the equipment. Our control panel with user friendly software is ideal for the operator and comforts him for operating the machine smoothly.
The customer has option to go for microprocessor based or PLC based or PLC with SCADA type of panel.
---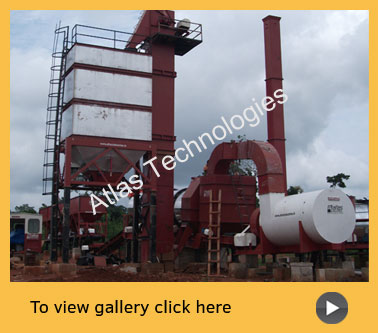 DM 60 - 90-120 tph
Location: Nigeria
Four bin feeding unit
Fully insulated + stainless steel coated drying mixing drum.
1 x 20 tons bitumen storage tanks.
50 tons of hot mix asphalt storage silo with bucket elevator to feed the silo.
Venturi type wet dust collector.
---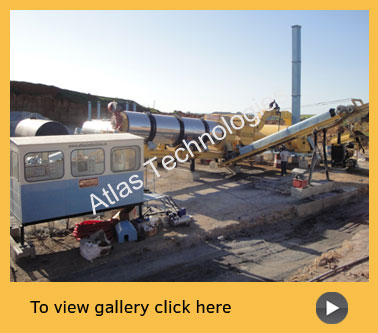 DM 50 - 60-90 tph
Location: Morocco
Mobile four bin feeding unit on one axle
Mobile and insulated + stainless steel coated drying mixing drum on two axles.
2 x 25 tons bitumen storage tanks.
Venturi type wet dust collector.






---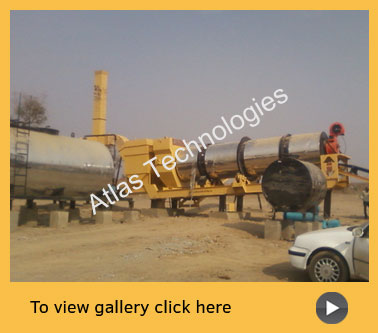 DM 50 - 60-90 tph
Location: Nigeria
Drying and mixing drum is insulated + stainless steel coated.
1 x 20 tons bitumen storage tank.
Venturi type wet dust collector.







---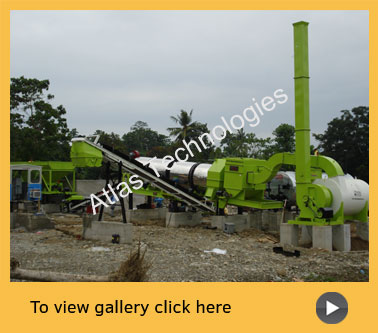 DM 50 - 60-90 tph
Location: Philippines
Drying drum of this equipment is fully insulated.
20 tons bitumen storage tank.
Venturi type wet dust collector.






---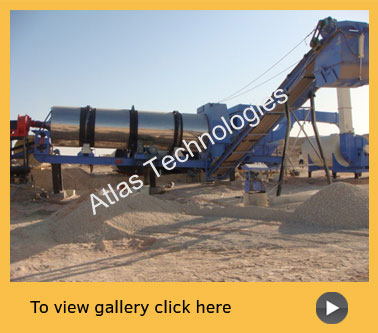 Combined asphalt drum mix and wet mix macadam plant
Location: Libya
Capacity of drum mix plant: 90-120 tph
Capacity of wet mix plant: 200 tph
Common aggregate feeder
Wet dust type pollution control unit
25 tons wet mix storage silo
---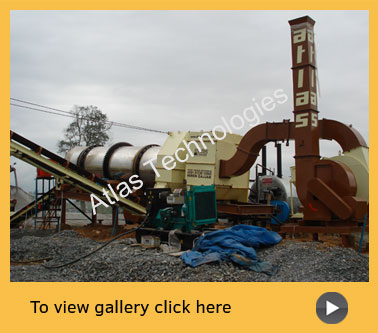 DM 60 - 90-120 tph
Location: Nigeria
Dryer burner modified to use furnace oil.
Two bitumen tank burners modified to use furnace oil.
---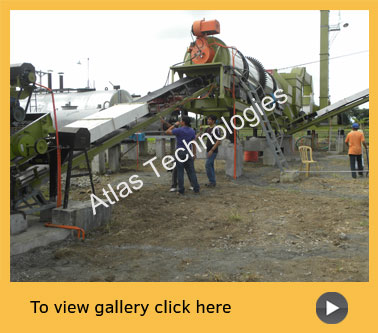 DM 50 - 60-90 tph
Location: Philippines
2 x 20 tons bitumen tanks
Thermally insulated drying and mixing drum of stationary asphalt plant.
---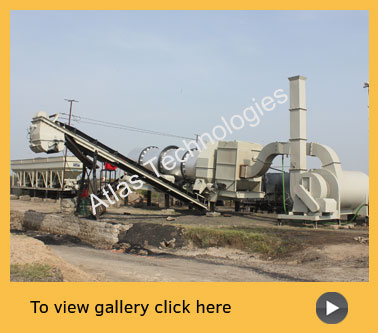 DM 60 - 90-120 tph
Location: Near Viramgam, India
2 x 'U' shaped bitumen storage tanks
Primary and secondary pollution control units supplied.