Portable Asphalt Plant: 20-30 Tph
​This small 20-30 tph portable asphalt plant is ideal for small to medium sized jobs. If your job involves using 2 aggregates and you need to move to different sites more often this is the answer. It is ideal to produce quality hot mix without any compromise. The control panel is PLC type and the touch screen display makes it easy to operate the machine. Burner is multi-fuel and works efficiently. We are looking to export to Cameroon, Morocco and Bhutan.

For road projects that require small asphalt plants, Atlas has a very effective solutions for the same. Our MDM 25 plant is of rated capacity 20-30 tph and its small and compact size makes it ideal for small jobs.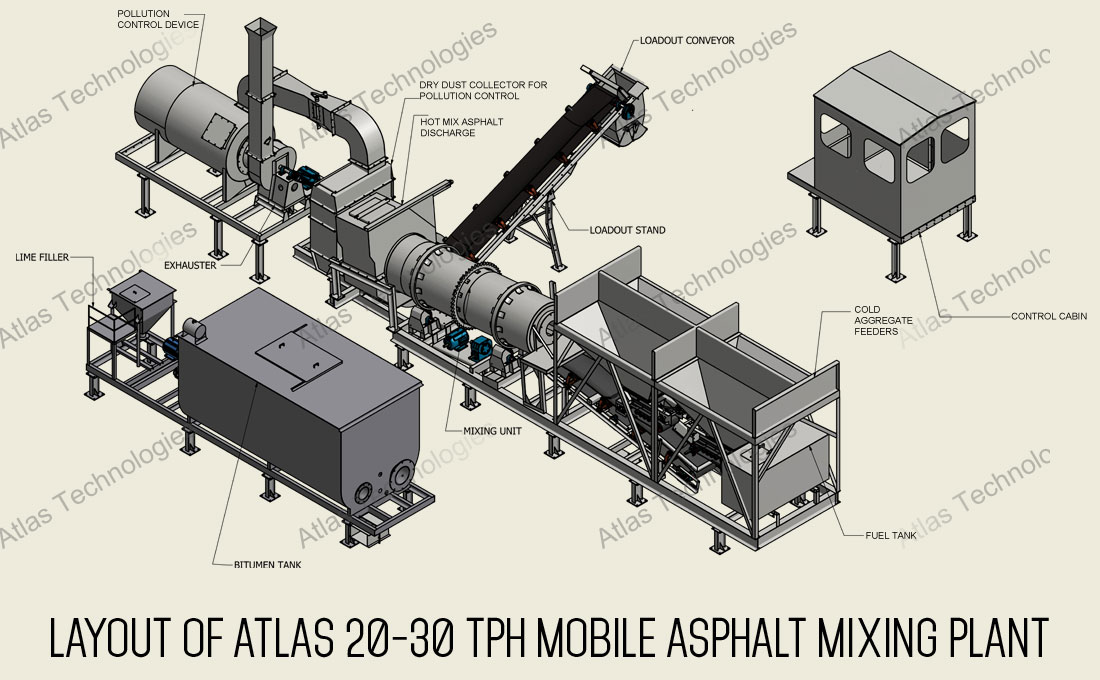 As a quality portable asphalt plant manufacturers we have tried to make a smal and compact plant which would be easy for the contractor to assemble, disassemble and start quickly. Many times there are frequent job shifts and the production required is not that that but the real pain that customers face is the mobility and installation.
This MDM 25 plant is ideal for such small jobs and the best part is that there is no compromise in production.

---
Atlas portable hot mix plant is a very compact plant which comes with four cold aggregate feeders arranged in 2 x 2 layout. This arrangement of the feeders allows us to save valuable space making this plant very compact. Fuel tank for dryer burner is very nicely placed near to the feeder bins. A single conveyor runs beneath the feeders taking the aggregates right into the drying and mixing drum. This conveyor does the task of weighing when the aggregates are transferred to the drying and mixing drum.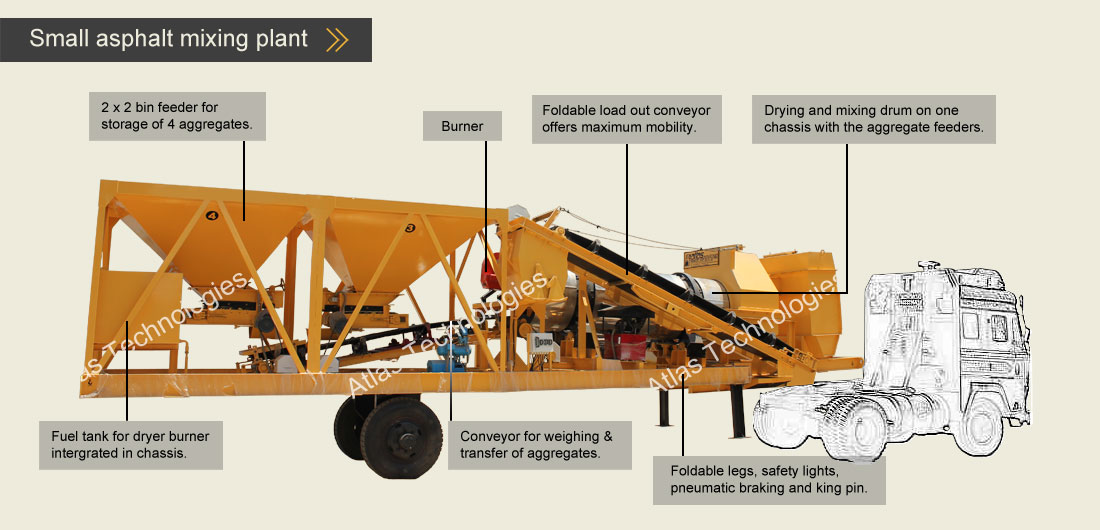 The burner supplied with portable asphalt mixers by Atlas is a low noise burner suitable for heatinng the aggregates effectively. Flight arrangement of the drying and mixing drum allow homogenous drying of the aggregates in the first half getting them ready for the mixing. When bitumen and minerals enter the later part of the drum, they are treated with nicely heated aggregates and this makes it easy for them to blend with the aggregates. The drying and mixing drum compliments the burner of the mini hot mix plant allowing maximum fuel savings and effective heating. The drum is covered with cerawool and is coated with stainless steel. It is painted with heat resistant colour so that your equipment will look good for years to come.

With Atlas portable asphalt drum mix plant, there is a common chassis for the cold feeders and for the drying and mixing drum. The load out conveyor is folding type and it can be commissioned quickly. This helps to save a lot of time when you have to change sites frequently.

All the chassis are with king pin attachment, pre wired with junction box, pneumatic braking, foldable legs and safety lights.
---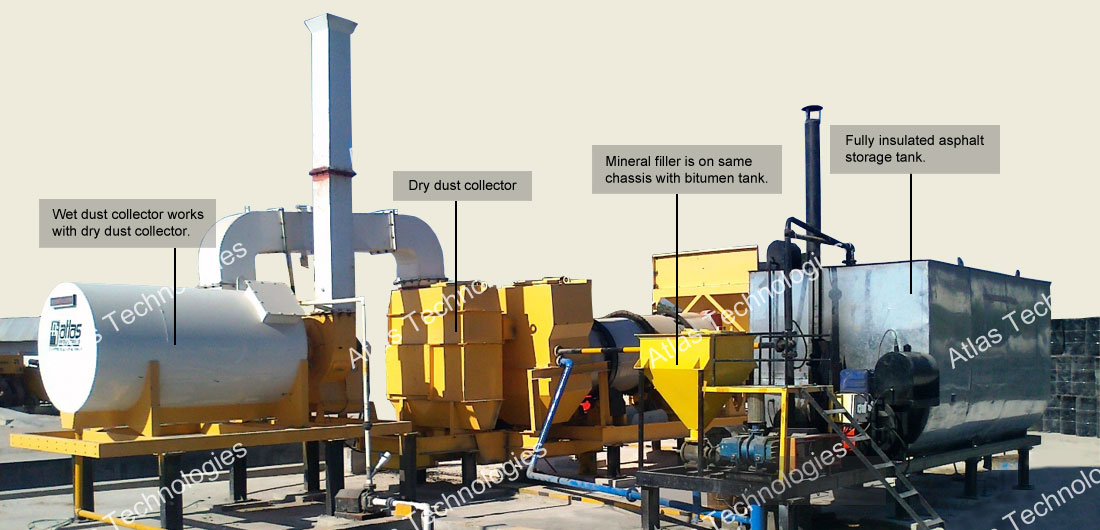 Dry dust collector does the task of collecting and settling heavy dust particles and it can be used in combination with wet dust collector for better results. Dry dust collector comes in same chassis with the drum and feeding unit. Wet dust collector can be on same on other chassis.

There is a separate chassis for mineral filler unit, bitumen tank and control cabin of the portable asphalt plants for sale. Control cabin will be detached and it can be placed at other location so that the operator gets good view.

Bitumen tank supplied is fully insulated and it can be U shaped so that filling of barrels by bitumen is easy. The thermal insulation of bitumen will help it retain heat for a long time and also help in saving fuel for the bitumen tank burner. With mineral filler one can add powder additives of their choice directly into the mix. Mineral filler unit comes with air compressor unit for freely blowing the minerals into the drum.
---

The control panel can be microprocessor or PLC based depending on the requirement of the customer. We have designed the software of the portable asphalt mixing plant keeping in mind the operator and it allows easy operation of the plant.
---
​

​
Control panel is placed inside the control cabin which is located at a place where the user gets full view of the plant.
---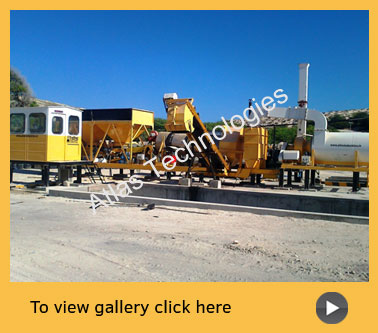 MDM 25 – 20-30 tph
Location: Somalia
2 x 2 bin feeder
Thermally insulated and stainless steel coated drying and mixing drum.
Dry and wet duct collector
1 x 12 tons bitumen tank
---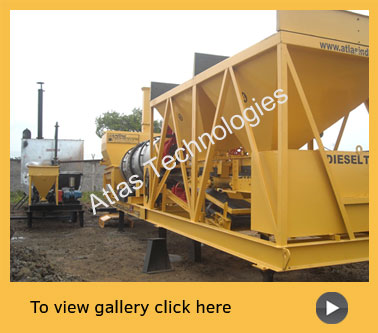 ​
Location: India
2 x 2 bin feeder
Only dry dust collector, no wet dust collector
12 tons asphalt storage tank
---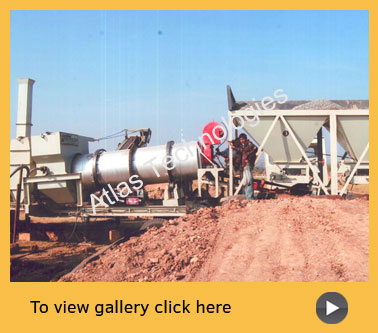 Location: India
2 x 2 bin feeder
Only dry dust collector, no wet dust collector type pollution control unit.
12 tons bitumen storage tanks.