Wet Mix Macadam Plant
​Atlas wet mix macadam plant is designed for road contractors who are every looking for a strong and reliable machine for their important construction projects. Each component is designed with precision and care to ensure that customer enjoys the functioning and utilizes the plant to maximum. Available in capacities 100 tph, 160 tph and 200 tph the contractor has wide options to go as per his project requirement. Our plant will help customers make homogenous mix of base or sub base layers before laying of hot mix asphalt.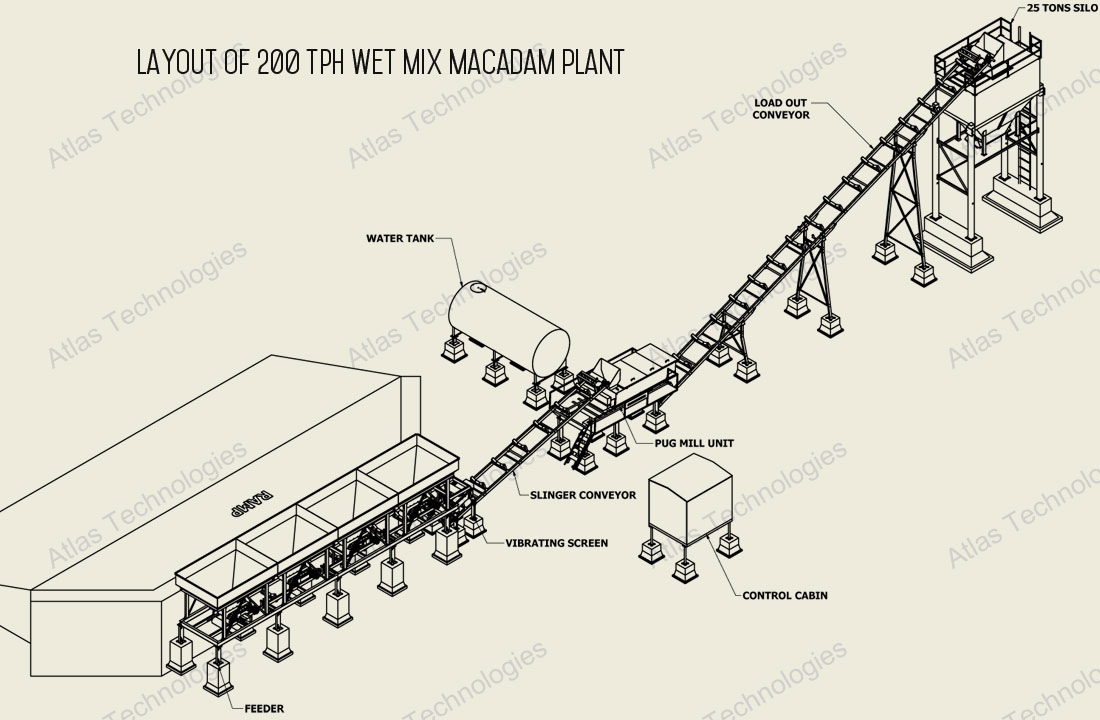 The standard wet mix plant come with components like cold aggregate feeders, vibrating screen , conveyor with load cell, pug mill mixer, load out conveyor, silo or hopper, water tank and control panel inside control cabin.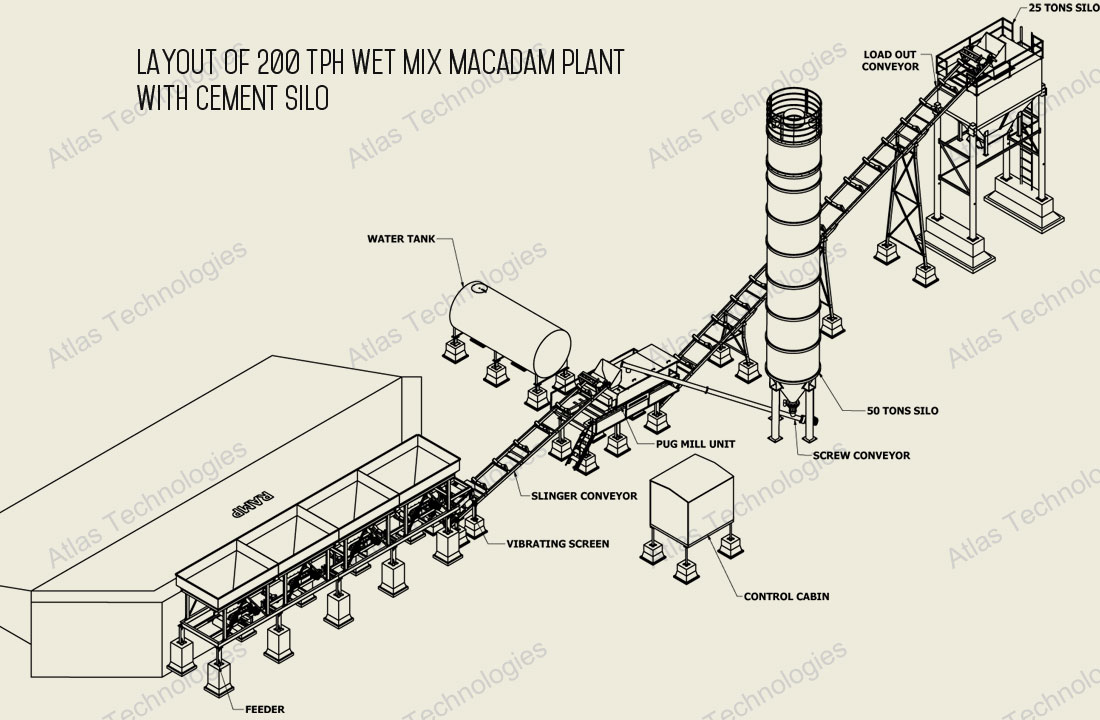 ​
It is also possible to supply plant with cement addition facility and for that, the plant will come with cement hopper and cement silo for addition of cement directly into the pug mill. The motor supplied with the screw conveyor of the cement hopper / silo will be synchronized with the load cell and desired quantity of cement can be added into the pug mill mixer.
If you are looking for a reliable machine which is sturdily built for long use and power saving, Atlas is the answer.

The standard aggregate feeders of WMM plant come with 4 bins for storage of 4 types of aggregates. The number and size of bins can be customized as per the requirements of the customer. Each bin is provided with a gate for manual adjustment and individual belt beneath equipped with variable speed drive motors. These belts discharge materials into the gathering conveyor.
---

Aggregates from the gathering conveyor are taken to the charging conveyor belt and in between they have to pass through a single deck vibrating screen. The screen is provided with a vibrator and helps to remove oversized materials.
---

​
After screening, the aggregates are transferred to the pug mill mixing unit by a charging conveyor. This conveyor is equipped with load cell which weighs the aggregates and sends input to the panel so that water and cement can flow in synchronization.
---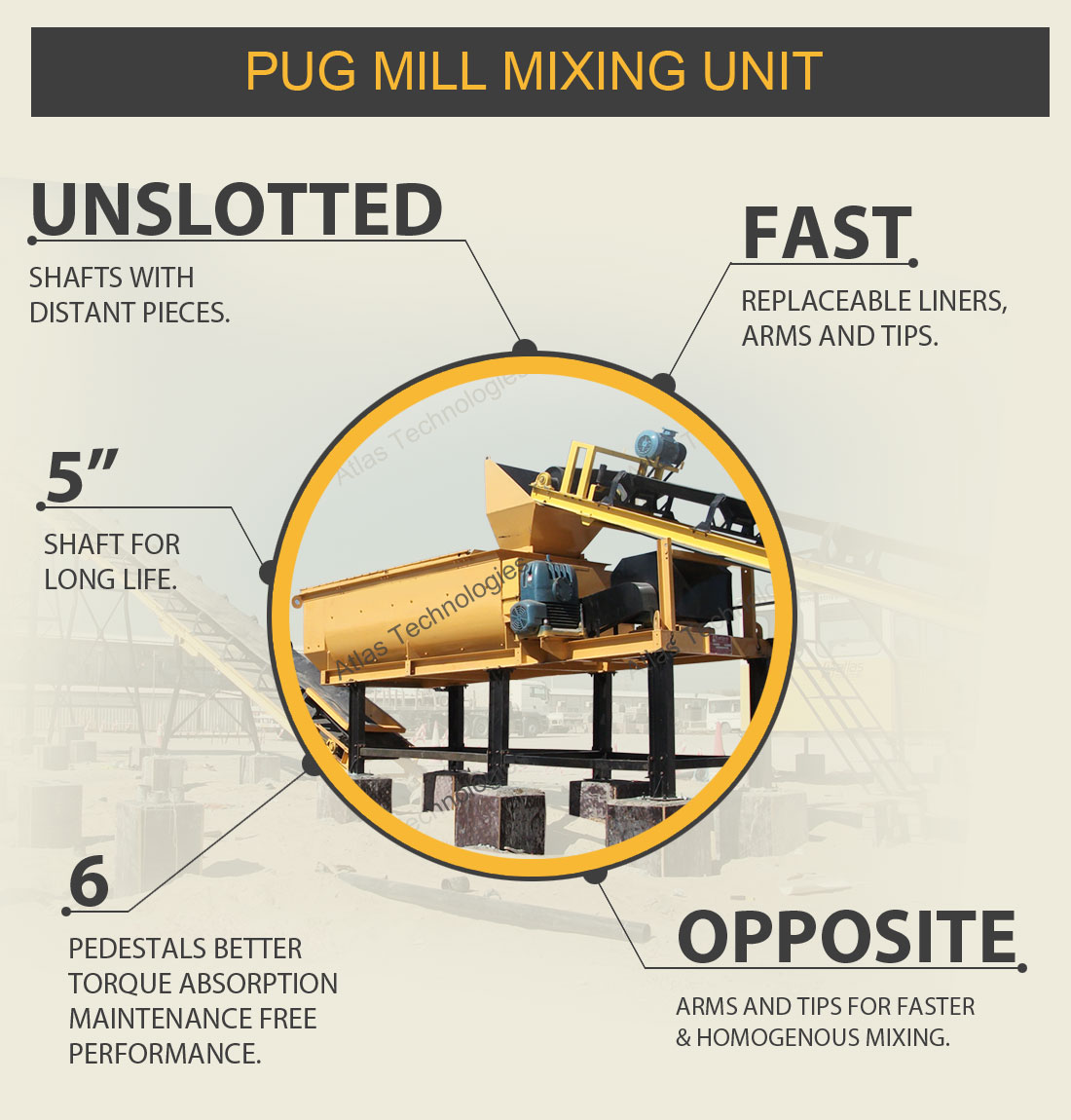 Pug mill mixing unit of Atlas soil stabilization plant is built on a rugged structure, the liner plates, arms and tips are easy replaceable for fast maintenance. This mixing unit consists of two arms fitted with arms, tips and parallel to each other. As the material moves from one end to the other, they get sprayed and mixed with water from the pipelines above. If opted for cement addition facility, cement gets directly added into the mixer by screw conveyor driven by a variable speed drive motor.

Some advantages of our mixer are as below:
We have provided pug mill unit with 6 shafts for better torque absorption and maintenance free performance.
Each shaft is bigger with a 5 inches thickness for long life.
The shafts are not slotted. Arms and tips are fitted with distance piece in between. This ensures that the shaft thickness is maintained.
The arms and tips are alternately fitted for homogenous mixing unlike alternate as supplied by other manufacturers.
Fast replaceable liners, arms and tips.
---

​
Water tank of suitable capacity comes with the wet mix macadam WMM plant, it is connected to the pug mill mixer with the help of a pipe and the plant comes with water pump for transfer of water to the mixer.
---
Cement silo comes in various capacities. Cement addition is directly into the pug mill mixer. Cement is ideal material which is usually added in small quantity and acts as a binding agent. Screw conveyor with variable speed drive motor add cement as per the desired percentage.
---

Control panel is supplied with user friendly software and is easy to maintain. Panel is designed to offer the operator full comfort possible.
---

​
Cabin is placed at a strategic location so that full view of the plant can be seen.
---

​
Load out conveyor belt takes the mixed material to the top of silo / hopper where it is discharged into the silo / hopper and it awaits truck. The silo is erected on a strong and sturdy chassis and comes with hydraulically operated discharged gates with a power pack. Standard 100 tph plant comes with 2 tons hopper, 160 tph plant with 10 tons hopper and 200 tph plant with 25 tons hopper.
---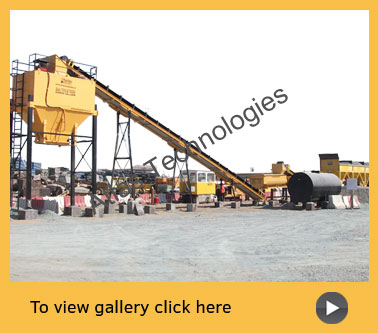 WM 200 - 200 tph
Location: United Arab Emirates
25 tons silo
15,000 liters water tank
---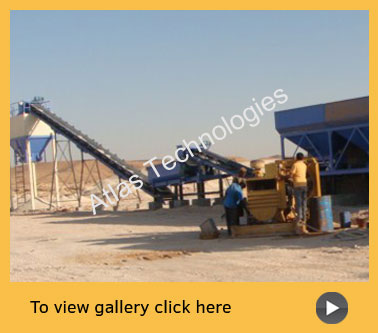 ​
Combined DM 60 and WM 200
Location: Libya
5 bin aggregate feeding unit.
90-120 tph asphalt drum mix plant on one end.
200 tph wet mix plant on other end with 25 tons wet mix silo.
---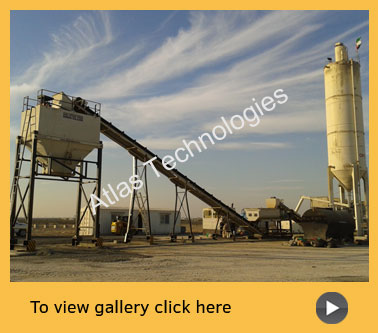 ​
WM 200 - 200 tph
Location: U. A. E.
25 tons wet mix storage silo
Water tank of 15,000 liters
Cement silo and screw conveyor arranged by customer.
Our technician helped in the electrical part for addition of cement in the wet mix.
---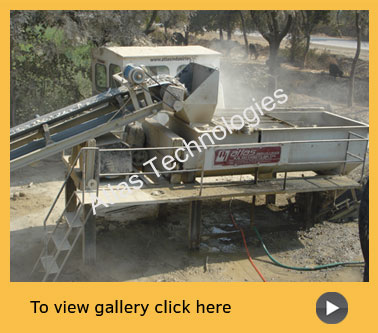 ​
WM 200 - 200 tph
Location: Chittorgarh, Rajasthan
Four bin aggregate feeding unit
25 tons wet mix material
15,000 liters water tank