Asphalt Batching Plant
​

​
Atlas ABP range of asphalt batch mix plant are designed for contractors looking for a basic yet reliable equipment from a manufacturer with good product knowledge and service support. We manufacture and offer capacities: 80 tph, 120 tph and 160 tph. Capacities above 160 tph will be tailor made; you can contact us with your requirement.
We offer standard plant to road contractors and we are open for inputs / customizations to make the plant suit your requirement.

Our aim is to provide equipment which are affordable yet low on running costs, low on maintenance, easy to operate and designed for quick assembling and start up. Our aim is to help you reduce cost to compete for tenders with high competition for road projects. We want our customers to get high quality hot mix asphalt without compromising on the production.

Advantages:
Built on a rugged and strong structure - suitable for rough operating conditions.
Comparatively lower operating and maintenance costs.
High efficient multi fuel burner for the drying and mixing drum is provided.
Thermally insulated drying drum.
Atlas asphalt batching plant is with modular units and designed for easy transportation and fast installation.
Minimum civil work required to be done at site.
We do use standard materials in the manufacturing.
The control panel is designed for ease of operation.
Ease of access for fast maintenance helping you to achieve maximum productivity.
Also available with wet dust collector in place of bag house filter for countries where pollution control norms are not stringent.
Cheapest spare parts in the industry.
User friendly PLC control panel provided with option to store various types of hotmix recipes with possibility to change the recipes frequently.
Components of the asphalt plant are: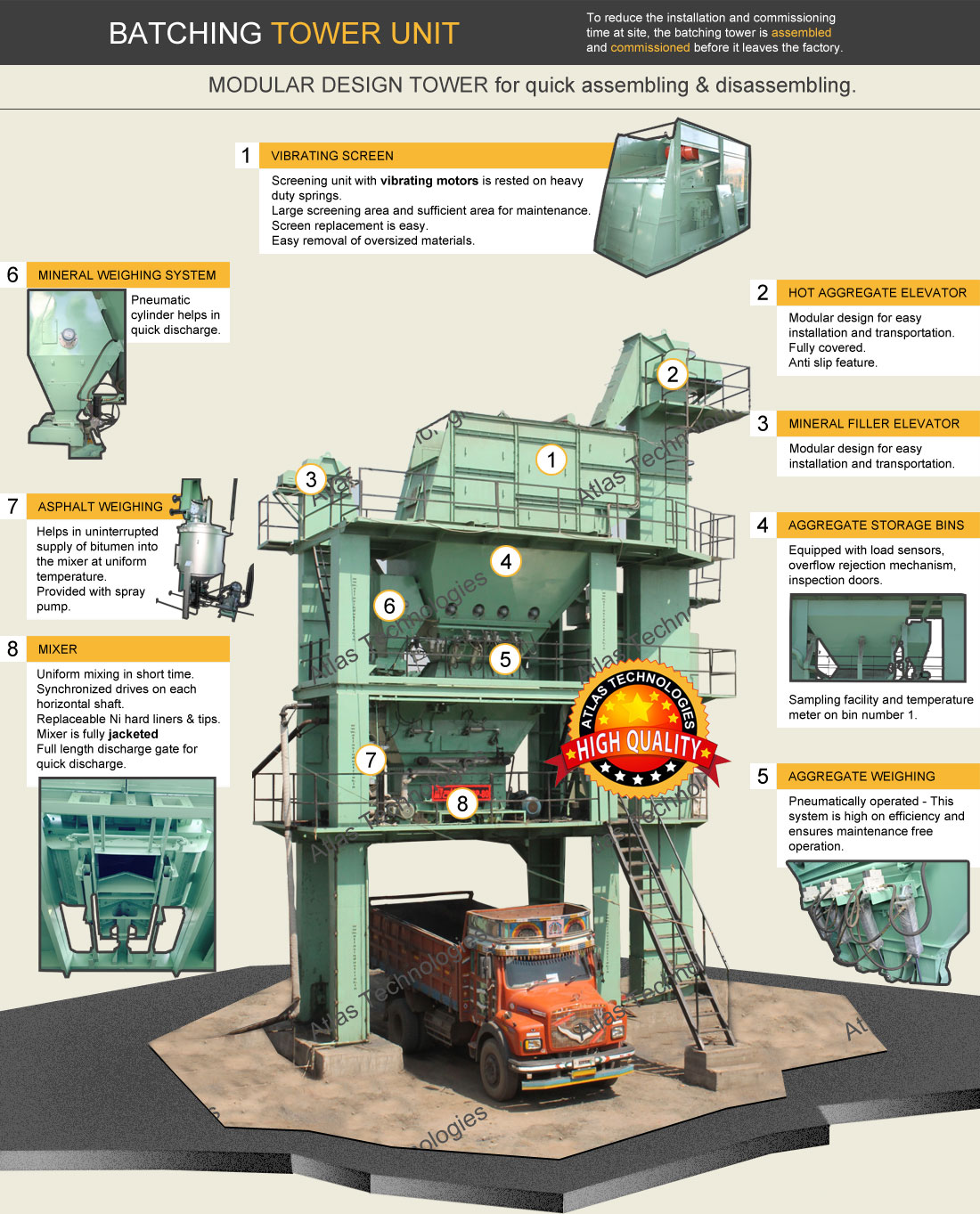 VIBRATING SCREEN: The vibrating screen is four layered and is for separation of different types of aggregates. The screening area is big so that the flow of materials is uninterrupted. The process of screen replacement is easy making the unit trouble free. There is sufficient space around the screen for maintenance. The screen design makes it possible to quickly discard the oversized aggregates.
HOT AGGREGATE ELEVATOR: The vertical elevator for transfer of hot aggregates is fully covered. It comes with wear resistant plates and is with feature to curb slippage of buckets.
MINERAL FILLER ELEVATOR: Vertical filler elevator is for filling the minerals in the filler storage bins situated on the tower unit. The level indicator on the dust storage bin controls the flow of filler from filler elevator.
AGGREGATE STORAGE BINS: Hot bins is with same number of compartments as the vibrating screen. After the screening process, the hot bins store the classified aggregates into different compartments. This storage of aggregates is for short time till they are weighed and transferred into the mixing unit. Hot bins are equipped with load sensors, mechanism to reject aggregates overflow, inspection doors, sampling facility and temperature meter on bin 1.
AGGREGATE WEIGHING HOPPER: The weigh hopper receives aggregates one by one. It is suspended on four load cells. As the total set quantity is complete in the weighing hopper, the aggregates are discharged into the mixing unit of the asphalt mixer.
MINERAL WEIGHING SYSTEM: Mineral weigh hopper is suspended on three load cells and is equipped with pneumatic cylinder for quick discharge.
ASPHALT WEIGHING SYSTEM: Asphalt comes from the bitumen tanks by the help of pumps and is stored in a weighing tank suspended on 3 load cells.
MIXER: Twin shaft type mixing unit is a powerful, dynamic and designed for smooth and trouble free operation. The mixing system allows homogenous and fast mixing. The liners and tips are designed for long life and are replaceable. The mixing unit is jacketed and provided with full length discharge gate for quick discharge of the hot mix asphalt.
​
---

The number of bins and sizes of aggregate feeding system can be customized as per the customer's requirement. The feeding system for aggregates come with an empty bin indication and vibrating motor on a bin for free flow of sand.
---
​​

The counter flow drying drum is designed to achieve thermal efficiency. The drum is laid on a heavy chassis and is easy accessible for maintenance. The design of the flights helps in heating each type of aggregates properly. The drum is chain driven or with a friction drive depending on the customer's choice.
---
​​

The size of the drying drum compliments the burner to achieve fuel savings. The burner is low noise type and high on thermal efficiency and is capable to work with diesel and LDO. Burner can be modified to work with FO also.
---

​
Primary pollution control is a dry dust collection type. The dust is collected by the dry dust collectors from three points: drying drum, vibrating screen and the hot bins ensuring that proper dust free aggregates enter the mixing drum.
---

​​
Dry dust collector is complimented by a bag house filter as a secondary dust collector unit.
Venturi type wet dust collector is also available in place of bag house collector.
---

Atlas asphalt mixing plant come with asphalt storage tanks in various capacities as per the requirements of the customer. These bitumen storage tanks are fully insulated to retain the heat and keep bitumen in liquid condition for a long time.
---

PLC control panel is designed for maximum operational efficiency. The touch screen control with coloured display makes information clear to read. The components used in the panel are standard make keeping in mind easy maintenance.
---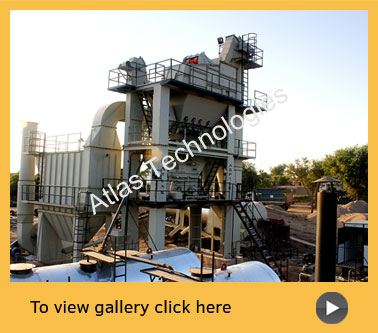 ABP 160 - 160 tph
Location: Near Degana, India
Dry dust collector, bag house filter
2 bitumen tanks with indirect heatinng system
PLC control panel.
---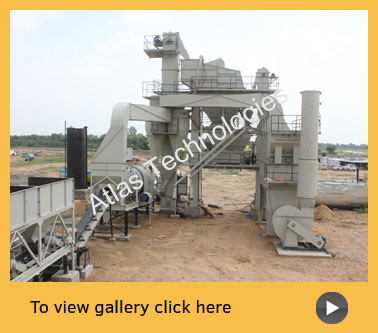 ABP 120 - 120 tph
Location: Near Radhanpur, India
Four bin cold aggregate feeding unit
Dry dust collector + bag house filter
2 bitumen tanks
PLC panel.
---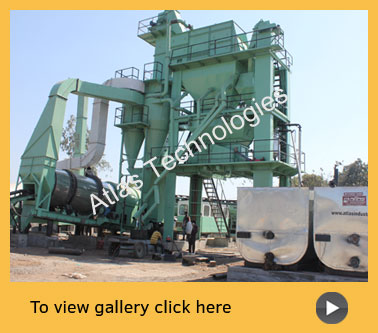 ABP 80 – 80 tph
Location: Ankleshwar, India
Four bin aggregate feeder
Fully insulated drying drum
Venturi type wet dust collector
2 x 20 tons bitumen tanks with direct heating system
PLC control panel.