COUNTERFLOW DRUM MIXERS
Proven design of Atlas Counterflow drum mixers have helped customers achieve better quality of hot mix. The simple design of this equipment has helped customers achieve optimum fuel efficiency. It is also possible to use bag filter with the machine. We are looking to export counterflow asphalt plant to Europe and countries like Bangladesh and Sri Lanka.

The counter flow series of double drum asphalt mixers offer a compact design to contractors with production range as low as 40 tph to as high as 120 tph. Plants above 120 tph are available and are custom made. These plants are designed to give better mixing quality compared to the single drum parallel flow plants offered.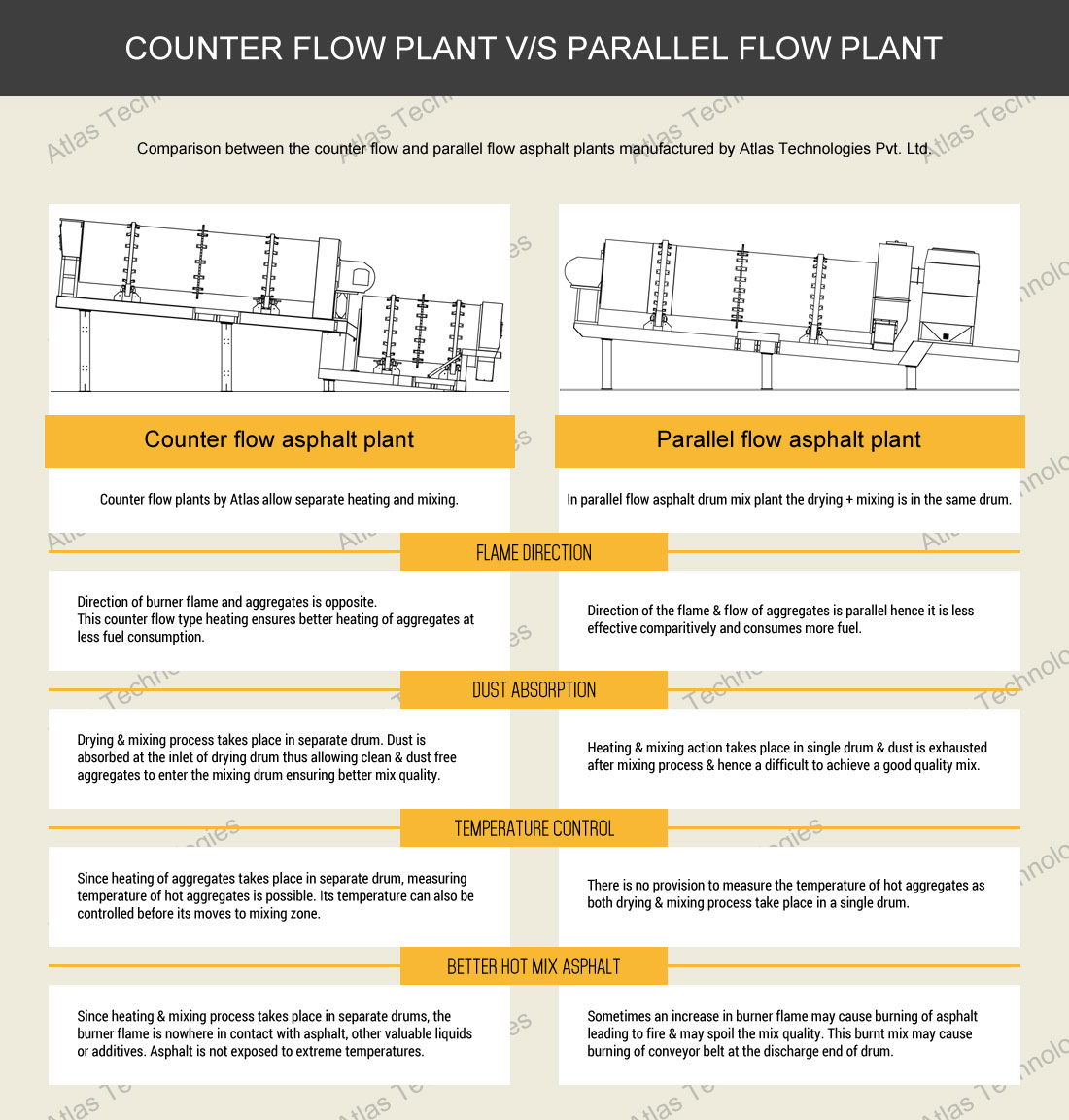 Due to separate drying drum, these plants boast of long aggregate drying time. The same holds true for mixing also because of a separate mixing unit with this equipment. Due to separate drying and mixing zones it is very easy to achieve maximum level of heat transfer and fuel efficiency which is not possible with parallelflow plants.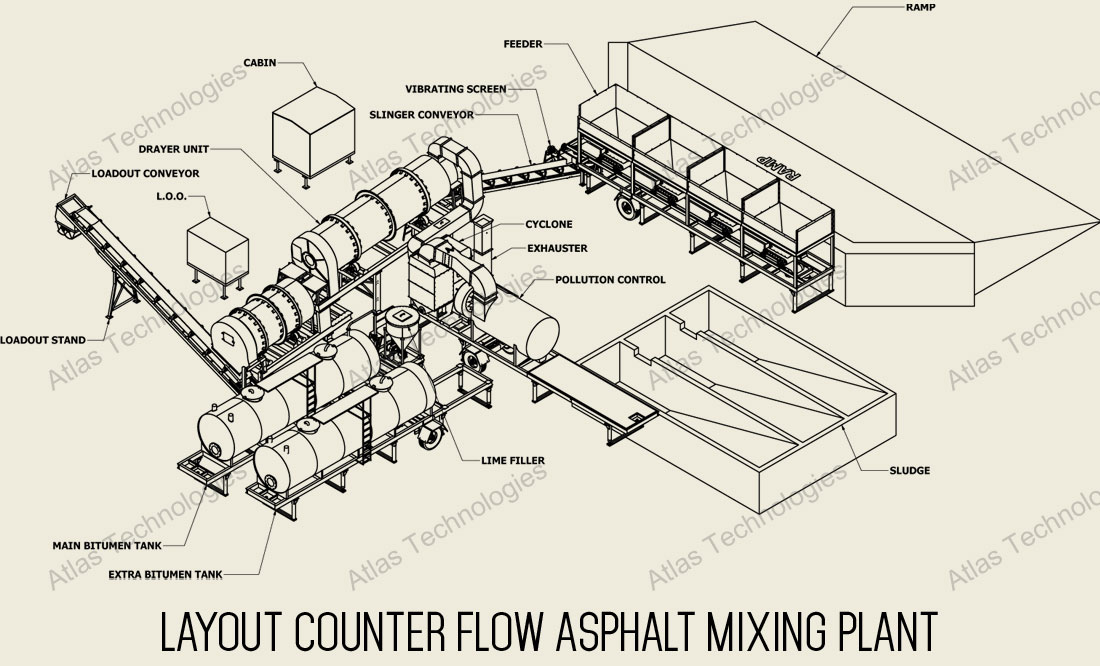 ​
These counter flow asphalt plants can also be customized with a pug mill mixer to make it capable to process RAP. Pug-mill mixers result into the mixing quality as good as the batching plants.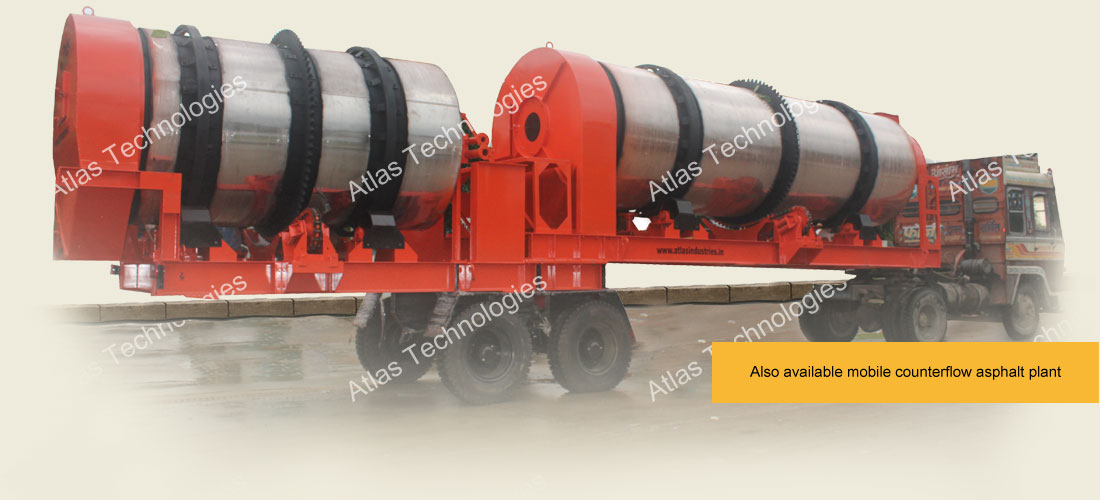 It is possible to adapt these plants for different materials and designs making them very versatile. Bag house filters can be fitted with these plants and they adapt very easily making these plants ready for markets which are environmentally conscious.
Counter flow asphalt mixers are available as portable or stationary type. Wide range of components and customization options allow us to make each plant which meets your needs.
---

Aggregate feeding unit comes with variable speed drive motors on each bin. The unit is built on a strong structure. The number and sizes of bins can be customized to suit customer's requirement.
---

Screening unit is a single deck unit for removal of oversized aggregates. Charging conveyor is equipped with load cell for weighing of aggregates as they are transferred to the drying drum.
---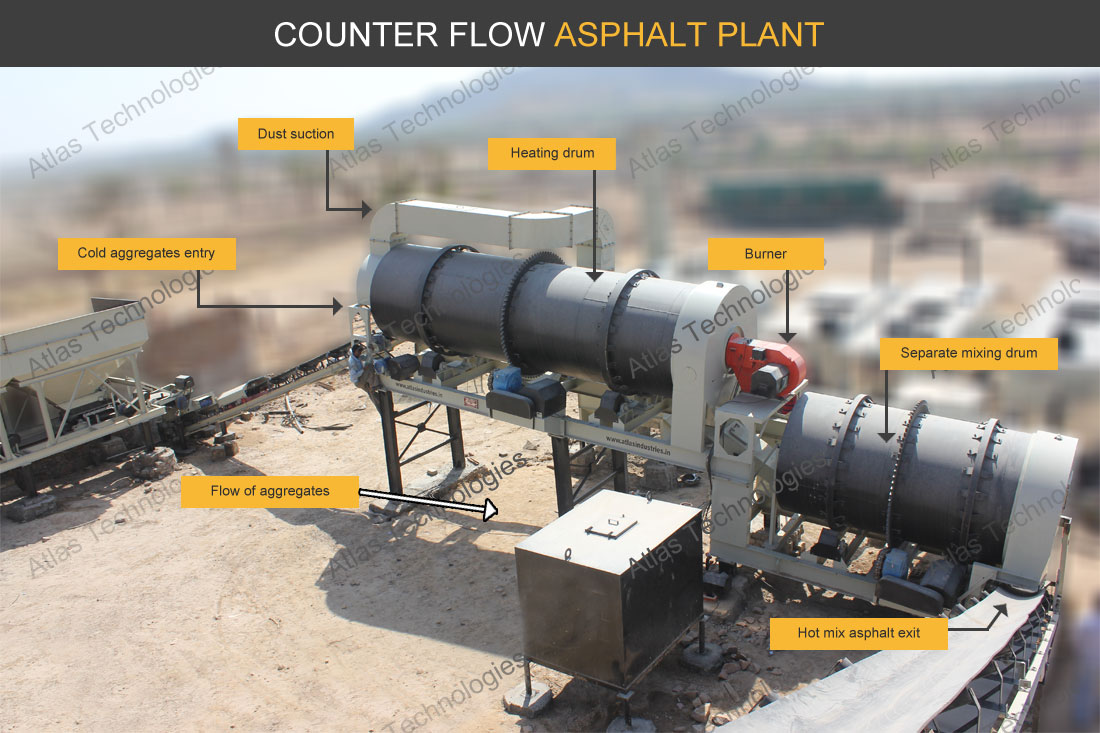 The dust is sucked by the exhauster as soon as the aggregates enter the drying drum. This dust is treated by primary and secondary pollution control units. Dust free aggregates move from one end of the drum to the other end. During their transit, each aggregate is uniformly treated to heat by the burner present on the opposite side of the drum. Since the burner of counter flow asphalt mixer is on the opposite side of the flow of aggregates, this design is called as counter flow. This design ensures that by the time aggregates move towards the other end of the drum, they are moving closer to the burner and hence the burner will require lesser efforts to heat the aggregates compared to the parallel flow hot mix asphalt plants.

The other drum is for mixing of aggregates with bitumen and other minerals or additives. The second drum receives hot aggregates where they are uniformly mixed with bitumen and minerals / additives. Bitumen and other minerals are conveyed to the second drum by means of a pipe. The exit of hot asphalt is directly on a heat resistant belt leading to small hopper or a silo before discharge into the truck.
---

Burner supplied with the double drum asphalt mixing plant is multi fuel type as it is capable to work with diesel and LDO. The burner can also be equipped with accessories to make it suitable for FO. The burner is low noise and fuel efficient machine designed for long term use and to give smooth operation.
---

Asphalt storage and heating tanks are built on a full heavy chassis. This retains the sturdiness of the tanks even during transportation. These tanks are fully insulated from all sides and come with a single phase burner for heating of the bitumen.
---

​
This unit is for addition of sand, minerals or any additive to the second drum along with bitumen. Mineral filler unit is with vibrating screen for blockage free flow of minerals.
---

The load out conveyor receives the hot mix material from the mixing drum. This conveyor is with heat resistant belt and takes the material directly into the storage silo or GOB hopper for discharge into waiting trucks.
---

Storage silos for hot mix asphalt are available in various capacities. These silos are insulated from all sides for heat retention for long time.
---

​
This unit receives dust from the drying drum and treats it to cyclonic effect to settle and remove the large dust particles to reduce the load on the secondary dust collector.
---

​
The secondary dust collector can be ventury type wet dust collector or bag house filter. It settles the dust which has escaped the primary dust collector.
---

Control panel is microprocessor or PLC based. Optional SCADA can also be incorporated in the PLC upon customer's request. The control panel is capable of working on auto and manual modes. It can also store number of recipes in the memory and can aid in printing the data. The control panel is pre-installed in the cabin and factory tested.
---

​
Cabin is designed to keep the panel safe, insulated from dust and protected from heat and dust. This control cabin is placed at convenient location for complete view of the plant.
---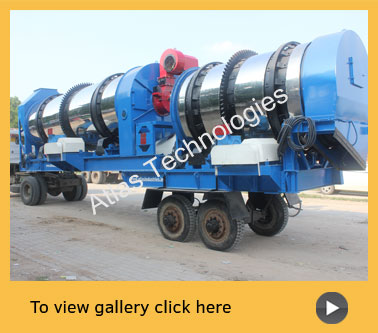 MDDM 60 - 90-120 tph
Location: Cote d'Ivoire
Fully insulated + stainless steel coated separate drying drum and mixing drum.
2 x 20 tons bitumen storage tanks - stainless steel coated.
2 tons GOB hopper.
Venturi type wet dust collector for pollution control.
PLC touch screen control panel.
---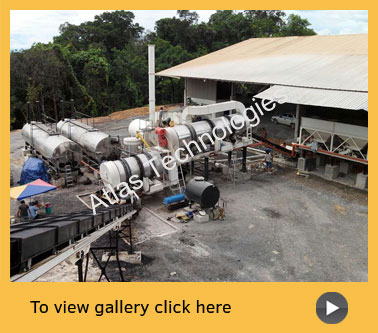 DDM 50 - 60-90 tph
Location: Malaysia
Customized four bin aggregate feeder as per customer's requirement and site condition.
Fully insulated + stainless steel coated drying drum and mixing drum.
2 x 30 tons bitumen storage tanks - stainless steel coated.
2 x 25 tons silo. Total 50 tons of hot mix asphalt storage.
Venturi type wet dust collector.
PLC control panel.
---
​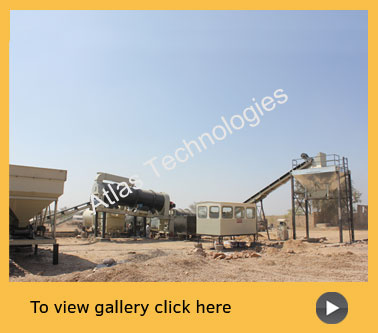 DDM 60 - 90-120 tph
Location: Merta, Rajasthan
3 bitumen storage tanks
10 tons hot mix storage silo
Wet dust collector type pollution control unit
Microprocessor based panel board.
---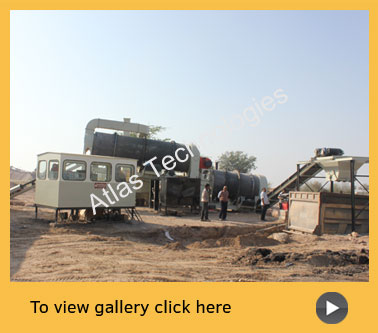 DDM 60 - 90-120 tph
Location: Near Jodhpur, India
1 bitumen tank supplied by Atlas, one old tank of customer connected to the main tank
2 tons storage hopper.
Pollution control unit is wet dust collector type.
Microprocessor based panel board.
---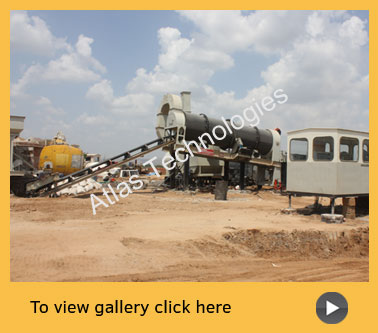 DDM 50 - 60-90 tph
Location: Jaipur, India
2 bitumen tanks
5 tons fully insuated hot mix storage silo
Wet dust type pollution control unit
Microprocessor type control panel.